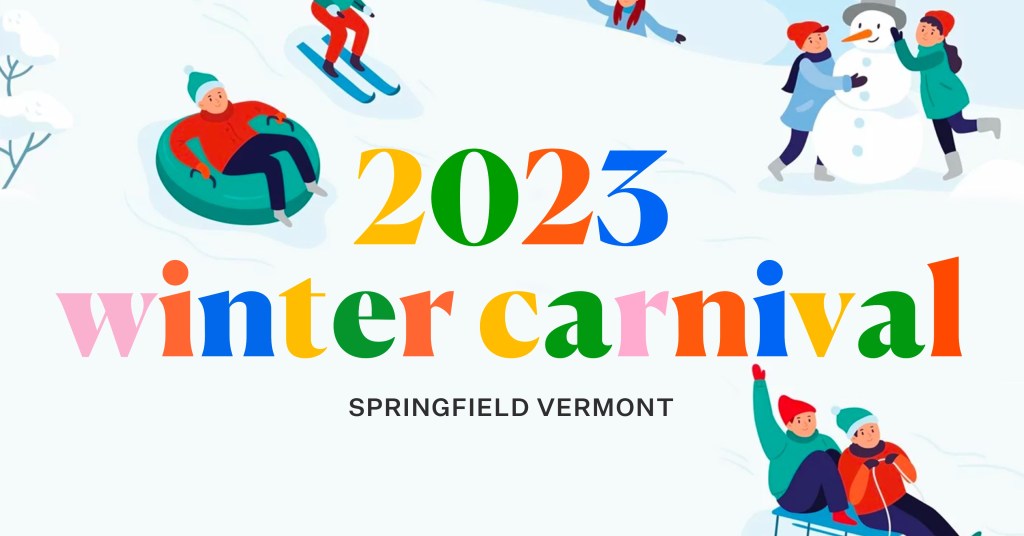 Winter Carnival is back and the snow is on the way!
Here's the lineup:
FRIDAY EVENING FEB. 3rd
6-9:00pm
Open sliding under the lights out on the big hill, and local music legend John Sullivan playing inside. Crown Point Pub is open from 4-9:00PM for excellent food, beverages, and free hot chocolate!
SATURDAY, FEB. 4
9:00am-12pm
Broomball Tournament at Riverside Middle School skating rink. There will be several divisions if enough interest. Contact Springfield Parks and Rec. for details!
11am-9pm
Open sliding at Crown Point all day, except when contests are happening… Bring your own sleds!!! The PUB will be open for great food and beverage from 11:00am-9:00pm Saturday!
12-4:00pm
Face painting in the Crown Point Banquet Roomthe very talented artist Mona Frye, and a variety of Big Games with the All-4-One program staff!
1:00PM
The popular CARDBOARD SLED CONTEST is back, and the theme is "CRITTERS". We'll gather at the top of the hill beyond the parking lot. Prizes include the BLING, SPIRIT, and SPEED awards, more info on that very soon!
2:00pm
MARKO THE MAGICIAN will perform a 45 minute magic show in the banquet room, followed by a teaching session for interested young magicians!
2:00pm
The winners of the ongoing SNOWMAN contest will be announced and prizes awarded. Springfield Parks and Rec. has already received some great photo entries, and you have until Feb. 3 to submit your Snow creation!
3:00pm
DOWNHILL KAYAK RACES ARE BACK!
We'll have a couple boats on hand, or you can bring your own. Whether you participate or spectate, this is fun stuff! Prizes awarded to top 2 finishers!
7PM-10:00pm
MUSIC w/ RUSTED BONES
co-sponsored by ARC MECHANICAL and ULTIMATE AUTO BODY,
BON FIRE
DUSK – 10pm
The large BONFIRE will be torched off by the Springfield Fire Department as darkness falls, the SLIDING HILL will be lit up until 10:00pm. FREE HOT CHOCOLATE will be available to all!
Remember, it's all free except the food and beverages! Stay tuned for updates, now get outside and help us out by doing your SNOW DANCES!!!
ALL activities, contests, and events are FREE, thanks to the generosity of our local business sponsors. Springfield Parks and Recreation, Springfield Town Library, The All-4-One and SPACE programs, and Crown Point Country Club are working together to bring you this Family Friendly event!