MEMBERSHIP
By joining Crown Point Country Club, you're not just gaining access to our renowned golf courses – you're becoming part of a vibrant community of fellow golf enthusiasts. From exclusive events and tournaments to exceptional dining and social experiences, your membership unlocks a world of privileges both on and off the green.
---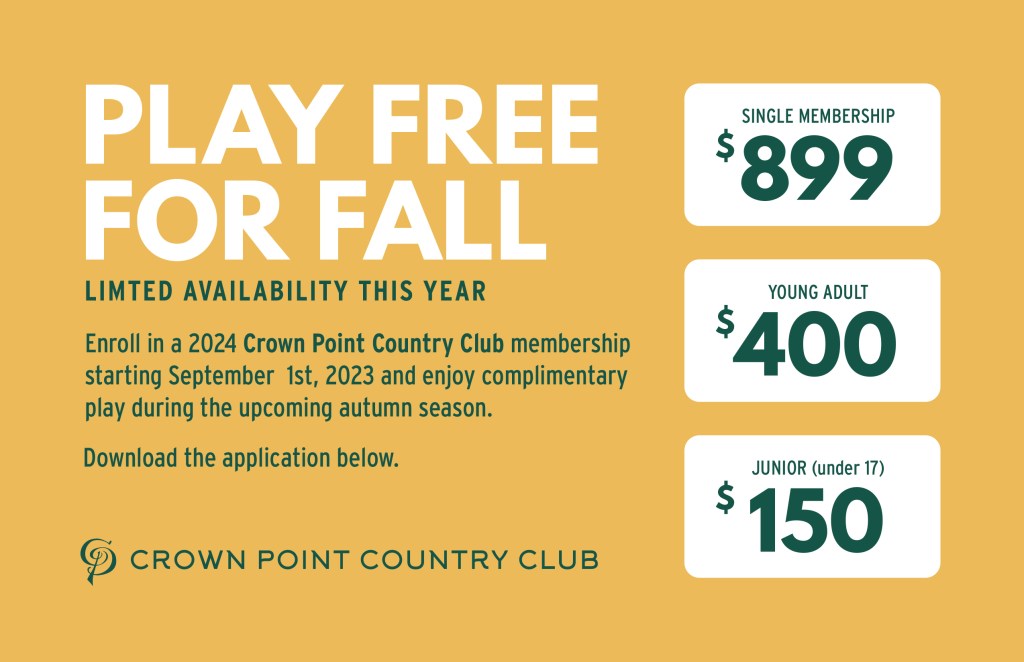 🍂 Limited Availability 🍂
This exclusive offer to enjoy free golf rounds during the autumn season is only available to those who sign up for the 2024 golf season at Crown Point Country Club starting September 1st. There are going to be limited spots available this year so don't miss out on this golden opportunity to embrace the beauty of autumn while perfecting your swing for next year.
How to fix a ball mark correctly
2024
Member Early Renewal
If you're currently a part of Crown Point Country Club, enrolling by October 31st 2023 entitles you to a $100 discount on your 2024 season dues.
---
Single $799
Young Adult $400
Junior $150
🏌️Corporate Memberships
Elevate Your Golfing Experience with Crown Point Country Club's Exclusive Corporate Membership!
Are you ready to take your business connections to the green? Look no further than the prestigious Crown Point Country Club's Corporate Membership. Here's your chance to enjoy the sport you love while fostering valuable relationships in an upscale environment.
Contact Us